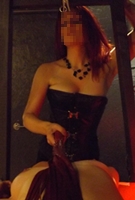 MANCHESTER MISTRESS, MISTRESS CRIMSON WANTS A PUPPY FOR PUPPY PLAY
Puppy play.
Two years ago I saw a male puppy man at a fetish market. I will never forget it. He was tall, slim, dressed as a dalmatian doggy, but not in a onesie! He was collared by his owner and they were happily wondering around the market.
Puppy on all fours as he should be.
He had cute little ears, a tail, and big brown puppy eyes. Even a black spot on his nose. So cute! I asked his owner if I could pet him and he said yes. It was so much fun. I rubbed his chin and belly and he loved it. He tried to lick my face but I told him off and whacked him on the nose and he whimpered. Fabulous!
Ever since then I have wanted a pet doggy of my own. I want a cute doggy to be all my own. Someone I can pet, walk, play tug of war with and generally have Owner/puppy fun with.
Now I realise that at first a puppy will misbehave and will need training.
Training that will need punishment. Peeing on the floor will mean puppy gets his nose rubbed in it.
I will enjoy the process and naughty puppies will be punished, caged, told off and ignored. Maybe even whacked on the nose for bad behaviour.
I do wonder if I am sadistic enough to make said puppy eat real dog food?! Pedigree of course!
Eventually my puppy will grow, learn new tricks, be rewarded for good behaviour and will be able to lie at my feet, warm safe and loved.
I will be very choosy on who becomes my puppy, only the best most dedicated will do. Dedication to the role play is an absolute. Because a puppy I choose will be my puppy, my doggy, and I will love that doggy as a real human would love a real dog.
If you think you have what it takes I will expect you to fill in a form even before I decide if I am to try you out.
Mistress Crimson.
Tel : 07459 015 745